As many readers know, I'm a huge VW/Audi nut. My trusty Passat's lease is coming due in March, and I'm starting to weigh my options. What might my next car be (if not the Passat)? It's a pretty decent car. It has SUV utility with a huge cargo area, it gets just under 30mpg, and has V6 AWD power.
But there are political and environmental considerations that make me question if 30mpg is really good enough. Yet, there are no vehicles from Audi that provide better than 30/30 mpg of fuel economy. The closest is the Audi A3, and it's borderline at 25/31 mpg. As for VW, they only get into the 30+ range with the variety of diesels they offer in the Golf, Beetle, and Jetta lines. Without a hybrid strategy in the US market, and a meager offering of options, the German automakers are ceding the US fuel economy vehicle market to makes like Honda and Toyota.
Yet fuel economy is only one facet of the ideal vehicle I look at. One feature I tend to appreciate a lot is the sure-footed traction provided by full time all wheel drive. Combine a diesel with AWD, and you end up with exactly zero vehicles available in North America for the brands (and prices) I typically would be inclined to buy.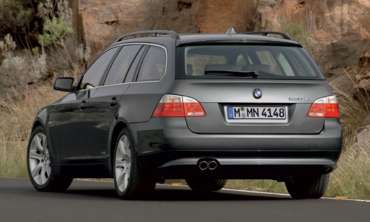 Audi? No luck with Audi bringing the A4 3.0 TDI Quattro to the US (even so, MSRP is north of $50K).
VW? Sadly, no Golf GT TDI 4Motion or Passat 3.2 V6 4MOTION DSG for the US.
BMW? No announcements to bring the 530xd (pictured) or any other diesel to the US.
Mercedes? Well, they ship the
E320 CDI
, but alas, no 4MATIC AWD and it, like it's 530xd competitor, retails in the $50K range. (At least it gets 27/37mpg and does 0-60 in 6.6 seconds!)
To be fair, Honda and Toyota don't offer AWD systems on their hybrids, and this isn't altogether surprising considering the extra battery and transmission weight that such a vehicle would have to contend with. In fact, it can be safely assumed that few, if any, cars in North America perform better than 30mpg and offer AWD for this reason.
So perhaps AWD, at least in this generation of vehicles, is incongruous with fuel economy. Yet even when I lower the bar on fuel economy, I still don't end up with affordable AWD makes from the German automakers. The least expensive options are the Audi A4 2.0T Quattro, BMW 325xi, and Mercedes C280 4MATIC, and all tip the scales > the $30K mark.
Dropping below the $30K mark leaves only the Jetta, Golf, Beetle, and A3, none of which are currently offered in an AWD configuration. At this point, it starts to come down to the utility of the vehicles, since they all share the same basic family of platform and engine technologies.
My test drive of the A3 Sportback left me impressed with DSG, and it's very reminiscent of driving a Corrado. On the down side, the gas mileage isn't stellar, and the price can push just below $30K comfortably equipped. On the plus side, with the A3 you also get the utility of having a hatchback.
The Golf offers hatchback utility, but no DSG. Meanwhile the New New Jetta isn't offered in a wagon configuration, which means to get a DSG means no hatch. And the Beetle only offers the meager selection of TDI.
So, unless VW will ship the Jetta wagon with DSG, TDI, and (keep your fingers crossed) 4Motion, it seems I'm going to have to make some sort of compromise because I'm not going to see a sporty, economical, inexpensive, German, AWD vehicle shipping in the US by March 2006.
And, faced with that reality, perhaps I ought to cast a wider net, and take a closer look at the likes of the Prius, Civic, Accord (hybrids, naturally), and the Smart fortwo (assuming it gets released in North America beyond Canada). If I'm not particularly impressed, I might just keep the Passat-- after all, the only things missing in the Passat equation are the lack of super fuel economy and less than exhilirating performance-- both of which seem like minor inconveniences considering the alternatives have their own drawbacks.